>
>
>
Angelica Root Porridge
Angelica Root Porridge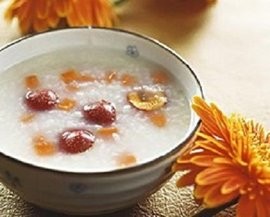 Angelica Root Porridge is a kind of traditional tonic diet. The porridge have the function of promoting blood circulation & arresting pain and relaxing bowel.
Detail boil porridge process as below:
1. Cleaning 20g angelica root, and put it into the casserole, sock them with 600ml warm water around 10 minutes.
2. Same twice boiling, after boiled simmer it between 20-30minutes.Need to left 150ml juice after twice boiling.
3. Cleaning 55g rice and 20g Chinese date. Put rice, Chinese date, sugar and juice in the casserole, also could add adapt water to boil porridge.
Glad to introduce the Angelica Root Porridge process to you here!
Please feel free to give your inquiry in the form below.
We will reply you in 24 hours.