>
>
>
Angelica Root with Chinese Date, Egg and Brown Sugar Soup
Angelica Root with Chinese Date, Egg and Brown Sugar Soup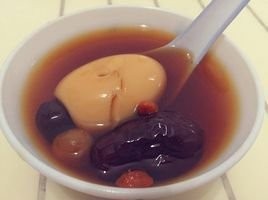 The soup rich in vitamins B12, vitamins C, and have the function of curing the spleen & stomach weakness, asthenia of qi & blood, anemia & sallow complexion.
Detail soup process as below:
1. Clean the food raw, and soak 10g angelica root, 10pcs Chinese date 10 minutes. Then put them with 2 eggs into the casserole with 5 bowls water.
2. After the heat boiled simmer about 3 minutes, remove the eggs shell, and then reput eggs in the casserole to cook for about thirty minutes.
3. When the casserole water to the amount of a bowl,pick out angelica slices, add the right amount brown sugar.
Please feel free to give your inquiry in the form below.
We will reply you in 24 hours.