Star Anise Farm
Farm of Fructus Anisi Stellati (Illicium verum Hook.f.) in Guangxi Province.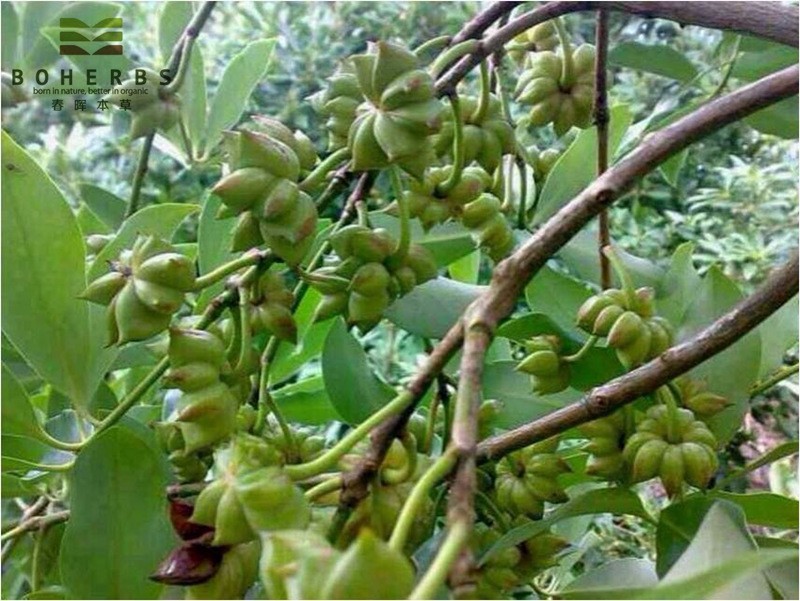 Anise is the mature fruit of the anise plant of magnolia family. Aniseed is a south subtropical tree species, like winter warm summer cool mountain climate, suitable for planting in deep soil, good drainage, fertile and wet, slightly acidic sandy loam or loam grow well.
Guangxi has beautiful environment and rich resources. According to statistics, guangxi's output of octagon has accounted for more than 40% of China's output and 85% of the world's output.
Boherbs selected the guangxi wuzhou, a humid subtropical monsoon climate, forest coverage rate reached 75.85%, river water quality success rate was 100%, the ambient air quality was above 99%, as a production base of Boherbs octagon. The star anise here is fresh, brownish-red or brownish-red, the horn is short thick, the fruit is thick, the flesh is thick, the taste is aromatic, the quality is superior, the quality is excellent.
Aniseed is divided into two kinds: spring fruit and autumn fruit. Spring fruit usually accounts for only 20 percent of annual production and autumn fruit for 80 percent.
Spring fruit ripens from march to April and autumn fruit ripens from September to October.
Harvesting methods:
When the fruit turns from cyan to yellow, harvesting can be done on sunny days.
1. The fruit is fully mature, and is picked after landing on the ground.
2. Tree harvesting, that is, when the fruit turns yellow, people climb up the tree to harvest.
Processing method:
1. Kill the green: pack the harvested star anise fruits with bamboo and carrots, put them into the pre-cooked boiling water pot, stir continuously with bamboo and wooden sticks, and wait for the fruit to turn yellow ( about 10 minutes ). Remove and drain the water.
2. Drying: after the sterilized star anise has been drained, it is laid out in the sun and exposed to the sun. It is often turned over and exposed to the intense light for 5-6 days. It can be processed into bright red star anise with bright luster. In rainy weather, bake.
Please feel free to give your inquiry in the form below.
We will reply you in 24 hours.